Text
Meet Howard Bland, MD, FAAFP
Dr. Howard Bland graduated from Loyola University Stritch School of Medicine in Chicago, IL. He completed his internship and residency in Family Medicine at Long Beach Memorial Medical Center. 
He is the president of OptumCare® Medical Group and a member of the American Academy of Family Physicians.
Dr. Bland pursued a career in medicine to blend his love for science and the practice of medicine with his passion for helping people improve their well-being.
"Patients are responsible for their own health. It is my job to advocate for and educate my patients so they can make good decisions about their health."
In today's market, physicians can't compete and continue to deliver top-level care without a tremendous number of resources and IT support. Having a partner like OptumCare is very important.

– Howard Bland, MD, FAAFP, OptumCare Medical Group
Text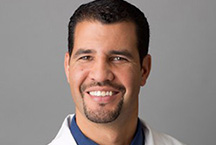 Howard Bland, MD, FAAFP
OptumCare Medical Group
Text
About Dr. Bland
Graduated from Pomona College, B.S. in Biology
Medical degree from Loyola University in Chicago, Stritch School of Medicine (1995)
Residency at Long Beach Memorial Hospital
Patients' Choice Award (2008, 2009, 2011, 2012, 2014)
Compassionate Doctor Recognition (2011, 2012, 2014)
Horizontal Rule
Helpful resources