Text
Working with OptumCare® as an independent practice organization (IPA) partner, you will be provided with the necessary tools to improve patient outcomes and secure the future success of your practice. 
Plus, the OptumCare support structure allows you to maintain independence and autonomy related to the delivery of compassionate patient care, while improving the overall quality of life for you and your family.
Meet Eric R. Batres, MD
Dr. Eric Batres graduated from the presitigious University of Southern California School of Medicine. He then completed his internship at LAC/USC Medical Center and his residency in Family Practice at the University of Southern California University Hospital.
One of his greatest career moments was being a doctor for the 1984 USA Olympic Team. Dr. Batres considers himself a physician leader and a patient advocate with a mission to, "Put the care back in health care."
"To be a  5-star physician, you need to meet certain criteria. OptumCare has a team of people that helps ensure you're documenting and capturing all the important information required to achieve that status."
OptumCare knew I wanted to grow my practice. Through partnering with them, I was able to meet the challenges in today's changing health care landscape by upgrading my technology.

– Eric R. Batres, MD, American Board of Family Medicine, AppleCare Medical Group
Text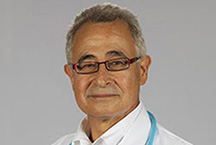 Eric R. Batres, MD
American Board of Family Medicine, AppleCare Medical Group
Text
About Dr. Batres
Graduated from USC Medical School (1979)
Residency at USC Medical Center (1983)
Joined AppleCare, a part of OptumCare, in 2005
Patients' Choice Award (2011, 2012)
Compassionate Doctor Recognition (2011, 2012)
Healthgrades Honor Roll (2015)
Horizontal Rule
Helpful resources